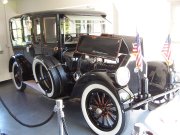 BEANS, GREENS, AND PURLOINED LOBSTER
All RV trips begin with a plan. Maybe your planning is as detailed as the Normandy invasion or maybe it is more like my last trip which started with, "Let's go to Maine." Few things bother me more than watching my little RV gather dust while I'm making payments so road trips are frequent. In two years Baby (that's what we call the RV) has logged over 40,000 miles and North Dakota, Wisconsin and Michigan are the only states still eagerly awaiting our arrival.
The first time we stopped for fuel it dawned on me that either I would have to raise the limit on my credit card or hold down costs somewhere else. Right there, while watching my bank account disappear into the gas tank, the Beans and Greens tour was born. Let me immediately state that my wife chose not to participate, but then she had already made a great sacrifice for the trip by limiting herself to taking only a dozen pair of shoes.
Cracker Barrel is well known amongst RVers because they usually provide decent parking and tend to be located along major thoroughfares. They advertise Southern cooking in the south and home cooking elsewhere, but it is all the same. One inexpensive meal consists of a bowl of pinto beans, and a bowl of turnip greens along with cornbread. Why not, I reasoned, eat that meal whenever we stopped at Cracker Barrel?
True, the money saved by eating beans and greens would only purchase a gallon of gas, but at $3.00 a gallon every little bit helps. Now this went on for several days since Cracker Barrel goes as far north as New York allowing me ample opportunity to compare the beans and greens across the country. As I said, it is pretty much the same. After a few days my wife sternly suggested I vary my diet. I'll leave to your imagination the reason for this request.
Our first objective was to tour New York City. We accomplished this by staying in an RV Park in Florida, New York, and taking a tour from the park. You can also do this from an RV Park in Newburgh, New York. Both of these parks are over an hour's drive to the city. We spent a while at the Statue of Liberty and a few minutes at Times Square, but there is only so much you can do in the time available. I'm searching for a better way to visit the city and would welcome your suggestions.
Then there was the moose tour in Gorham, NH. We paid $20 to get on a bus with 20 other moose watcher wannabes. The bus left at dusk and over the course of the next hour we traveled on back roads in the dark as our driver pointed a high powered spotlight along the sides of the road. It was as this point I realized that six cars containing people who hadn't paid the $20 were following us.
Then it happened. The driver spotted a moose and we all piled out of the bus to see. Sure enough across a large pond there was a moose, minding its own business and no doubt wondering what the heck we were doing. Before the night was over we spotted seven more moose, mostly doing moose things. My wife was happy. I guess if you want to see a moose, this is the way to go. The information center at Gorham can provide you with details. You might consider making a reservation. We didn't and it was only because a couple from Israel was kind enough to let their four year old son sit in a lap that I got on the bus at all.
From Gorham we traveled across Maine to a small town close to Bar Harbor and the Acadia National Park. Unfortunately at this point in the trip rain became common as did fog so we were unable to fully appreciate the scenery but we were able to enjoy a Maine lobster. We took highway 1 south through Camden (heavy rain prevented us from enjoying this town even though it came highly recommended) and on to Kennebunkport where we saw the home of President George Herbert Walker Bush. Kennebunkport is a cute little tourist town worth a stop for coffee and shopping.
During one of our stops a local newspaper front page story reminded me I was in Maine. "Two arrested in case of purloined lobsters," the headline read. It sounded more like a Sherlock Holmes case than a newspaper headline. Being from the south I expect to read about occasional robbing, stealing, holdups, and similar crimes. But the following headline will never appear in my local paper, "Two arrested in case of purloined beer." Bubba may steal something when the opportunity presents itself, but he just doesn't purloin.
I-495 sweeps way around Boston, but it is on I-495 where you will find a number of RV Parks. A very nice KOA close to exit 6 will take you to the train station every morning and pick you up at night. It takes about an hour to ride in at a cost of $12 for a round trip, but once at South Station it is easy to catch one of the several trolley tours. For two days this was our means of seeing Boston.
We continued to flee the rain and finally enjoyed a sunny day in a remarkable little town called Staunton, Virginia. Stauntonth President of the United States, Woodrow Wilson. For antique car buffs there is a fully restored 1919 Pierce-Arrow limousine on display at Wilson's Presidential Library. You will also find quite interesting architecture and a plethora of restaurants. It is a great place to relax and enjoy unmatched small town hospitality.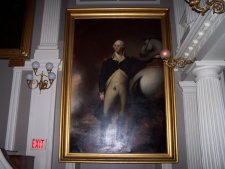 Painting of George Washington in Faneuil Hall, Boston, MA