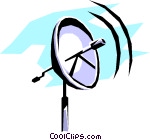 WHAT DIRECT TV DID TO ME!!
It was the best of times. It was the worst of times. Okay, okay, so this is no great tale. It is merely a warning for all of you when dealing with big companies who offer something that seems to be too good to be true: a cautionary tale as it were.
I have been what is referred to in the trade as a loyal customer of Direct TV for a number of years. During that time I recommended Direct TV to anyone who would listen. I got good service and for a fair price. I was also able to use it when traveling in my RV. So on the fateful day in August when this all began, I was fat, dumb and happy (some might say that the first two continue to apply).
My best recollection is that when the phone rang I was sitting on the couch watching TV via the aforementioned Direct TV satellite system. A friendly voice inquired as to my health and well being (a sure sign that they want something) before making me an offer that seemed so good I didn't believe it. (I should have gone with that feeling.)
He said that for $5 LESS than I was currently paying I could receive the NFL Ticket (lots of NFL football games) and a bunch of other channels as well. He said this would go on for 5 months and if I canceled before the end of 5 months I could return to my present package and there would be NO additional charges. He said this a lot because I kept going over it and over it and over it.
I went over it so much that he wasn't sure I had agreed to accept his offer. The next day I called them back and they went over the offer again. Assuring me that if I canceled within 5 months there would be no charge. I accepted.

THEY LIED. It sounds so harsh doesn't it? Maybe I should say they failed to properly inform me of the complete ramifications and possible consequences of my accepting their most generous offer. Or maybe I should make it smaller so I don't seem quite so shrill, something like: THEY LIED. Oh well, take your pick.
To recap: On August 24 I accepted their offer and a bit less than 5 months later (January 19) I canceled and returned to my original programming. You will not be surprised to learn that my bill was for about $60 more than my regular payment. I was surprised since I had followed their instructions to the letter. This was particularly embarrassing for me since I had told many others about the great offer. Now I not only was taken in myself, but had contributed to others having the same fate.

Many, many e-mails and phone calls have ensued in which they assure me that because their billing is for service in the future and that I changed in the middle of a month the extra charge was appropriate. They actually spent several paragraphs explaining this, but it made no sense to me and so I will not further bore you. I suggested that all of this detailed information about extra charges should have been provided BEFORE I signed up not afterward when they were billing me.
I filed a complaint with the FTC. I would have canceled service forthwith except that my wife would have to learn a new satellite system and that wouldn't be a good thing. If I can figure out a way to make my wife mad at Direct TV I'll change immediately.
They still call me from time to time with an offer of free this or that but now I hang up. Others may fool me with a new scheme in the future, but no "special offer" from Direct TV will rip me off.
You could suggest that I received lots of programming for very little money. Yes, but that is not the point. I didn't much care about the NFL Ticket and even less about the movie channels. All in all I certainly did not get my $60 worth of viewing pleasure, but the real question is simply this: if I had known about the extra charge would I have taken the service? NO!
So now my advice is to consider options other than Direct TV. The other options may or may not be better, but they haven't lied to me; at least not yet.
If a friendly voice offers you a really special deal, it might be a good idea to hang up. And by the way, the Direct TV people will tell you those folks doing the calling don't even work for them. They have some kind of contractual agreement. This gives Direct TV deniability for any and everything they promise you. Just remember, THEY LIED.