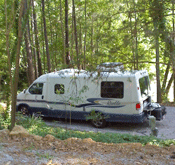 Nestled in a thickly wooded area twelve miles south of Athens, Georgia, you will find a small, family run RV Park that provides all the basics and quite a few surprises. We had a heavily shaded, level, gravel lot overlooking a small lake, with Free Wi-Fi.
There are 30 sites surrounding two small lakes. Some of the surprises include nature trails, fishing, and several humorous exhibits you will find while enjoying one of the nature trails. The exhibits include: a closed down still, rattler's cage, and the nudist colony. You will want to visit the "Bob White" family while strolling about. There is also a pet area including a fire hydrant for your pet.
If you have a group, there is a screened building next to one of the lakes with tables set up for eating. You will also find a playground area for children. Some tent camping is allowed.
Each of the 30 sites includes water, electricity and sewage disposal. The showers were clean and had plenty of hot water. There is a small laundry if needed.
Due to the heavily wooded nature of the RV Park satellite TV reception might be difficult. You can pull in several channels with your antenna, though reception is only perfect if you speak Spanish fluently i.e. on Univision. Depending on your site you might be able to pull in satellite service from a dish. This is possible thanks to the small lake.
Bring cash to pay for your site. Friendly, on site owners make this a great undiscovered RV Park if you are in the Athens, Georgia, area.
Current rates are: 1 night $28 (30 amp); 1 night $30 (50 amp); Weekly rate - save $2 per night; 30 amp - weekly- $182; 50 amp - weekly- $196; tent sites $20 per nigh;Extra people (more than two) are $3 each per night.
PINE LAKE CAMPGROUND
5540 High Shoals Road
GA HWY 186
Bishop, GA 30621
Phone 706-769-5486
E-mail: Pinelakerv@bellsouth.net